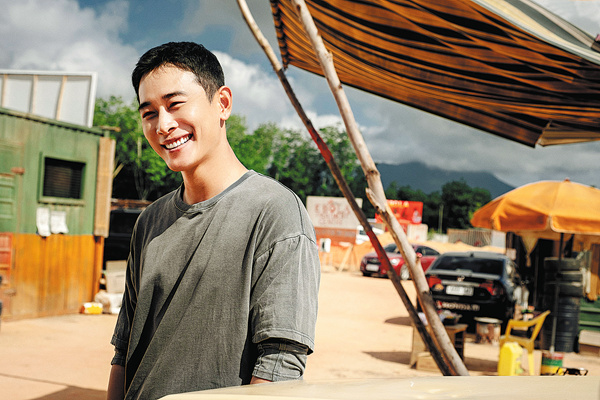 Scenes from Ebola Fighters, starring Luo Jin (above) in the lead role of a doctor. The series is inspired by the real-life stories of how Chinese and African doctors joined hands to fight against the deadly virus.[Photo provided to China Daily]
A new TV series takes inspiration from medical workers who battled Ebola in Africa, Xu Fan reports.
Cao Guang, a surgeon from Beijing Anzhen Hospital, along with a Chinese medical team was in Guinea between 2012 and 2014. Seven years later, Cao remembers details of the West African country's fight against Ebola.
Cao became emotional at a screening of Ebola Fighters, a 24-episode TV series, before it started to run on multiple platforms, including Tencent Video, on Dec 8. The fictional series draws inspiration from real stories of Chinese and Guinean medical workers who together fought Ebola, one of the deadliest viruses that claimed over 11,000 lives.
The series centers on Zheng Shupeng, the show's protagonist who's about to end his tenure as a doctor on a Chinese team that is helping a fictional country to battle an epidemic. He decides to stay and fight alongside fellow medical workers.
Cao is an archetype that inspired the role. Another role in the TV series is inspired by his former Guinean colleague, Bangoura Gassimou, who died of Ebola after treating an infected patient in 2014.
A diligent medical student who had studied in China for around 10 years, Gassimou could speak Mandarin fluently, working hard and previously dreaming of pursuing his career in Europe or the United States after returning to work at a hospital in Conakry, the capital of Guinea, in 2010.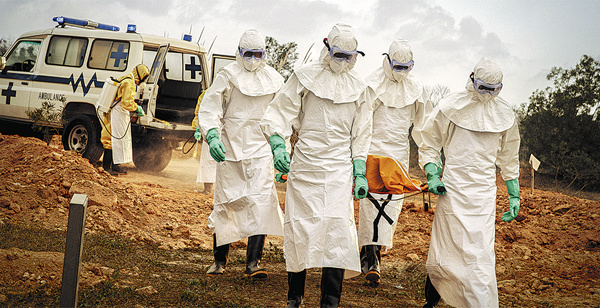 Scenes from Ebola Fighters, starring Luo Jin (above) in the lead role of a doctor. The series is inspired by the real-life stories of how Chinese and African doctors joined hands to fight against the deadly virus.[Photo provided to China Daily]
In the series, Zheng is depicted as having a close friend, a local doctor who is also named Gassimou. The character speaks Chinese fluently and loves Chinese culture-one of his favorite music works is the Chinese violin concerto Butterfly Lovers-and he occasionally "shows off" his cooking skills of Chinese cuisine in the likes of stir-fried eggs and tomato, one of the easiest and most popular dishes on Chinese people's dining tables.
There are two numbers in the series that have also stirred Cao's memory of his time in Guinea. The protagonist's badge on his white hospital uniform is "3281", close to Cao's own "3481" on his uniform, both in Beijing and Conakry. The first infected patient in the TV series is treated in the No 18 hospital cot, same as the bed number of the first diagnosed Ebola case at the China-Guinea Friendship Hospital, where Cao worked in 2014.
"The TV series has done a delicate job in re-creating a lot of details, making me, a person who has experienced the epidemic, feel that it is realistic and relatable," says Cao.
Aside from nerve-racking scenes that show doctors racing against time to save lives, the drama provides an exotic look at the daily lives of the locals, ranging from bustling street markets to distinctive ceremonies.
Chief producer Mao Yi says she had the idea to make the series after watching the four-episode documentary Border for Doctors in 2018. The documentary chronicles how China sent more than 21,000 medical workers to Africa over the past 55 years.
To do a comprehensive preparation for the new series, its major creators traveled to Tanzania and Sierra Leone in early 2019, and interviewed nearly 100 experts and medical workers, making notes of around "10 million words" over three years, according to Mao.
After joining the project in June last year, director Yang Wenjun and his team paid visits to hospitals and research institutions in Beijing, and Shenzhen and Guangzhou in Guangdong province, obtaining more firsthand information from top experts, including Li Jin and Qian Jun, two leaders of a Chinese medical team dispatched to Sierra Leone in September 2014.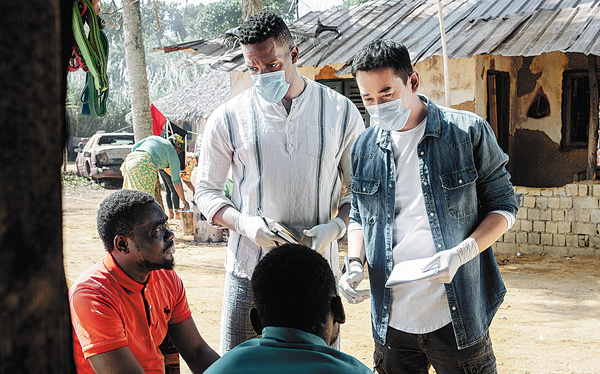 Scenes from Ebola Fighters, starring Luo Jin (above) in the lead role of a doctor. The series is inspired by the real-life stories of how Chinese and African doctors joined hands to fight against the deadly virus.[Photo provided to China Daily]
Yang says he also dived into the"58-year history of China's aid to Africa" and heard touching stories that gave him further inspiration for the series. A Chinese surgeon was too exhausted to feel the pain when sewing the needle into one of his fingers after performing several operations without a break; and a pediatrician once volunteered to play a motherlike role, holding a terrified child tightly in her arms, singing a song to ease the little patient's tension after he saw an adult patient pass away in the ward.
Aside from the major plotline unfolding, with actor Luo Jin starring as Zheng, in which the Chinese doctor endeavors to investigate the first infection in a local village, the series also develops a parallel plot about an overseas Chinese journalist, played by actress Mao Xiaotong, venturing into the village, disguised as an international doctor, to investigate a diamond-smuggling racket.
Such a design was made to add dramatic elements and draw a wider viewership, Yang says, adding that the two protagonists share a similarity. "They both wish to help the locals and seek truth despite facing hardships and hazards."
With major scenes set in Africa, the crew recruited more than 100 African people, living in Guangdong and Hainan provinces at the time of shooting, to appear in the series.
The original storyline was also changed to fit a cameo by the teenage daughter of an extra actor from Africa.
The girl was visiting her father during the shooting when Yang noticed her dynamic personality and Mandarin-speaking ability, and got her to act.
"I suddenly had a thought that if we could have a role like her, the series might be better. After I discussed with the producer and scriptwriter, we adjusted the script and invited her to act as the daughter of Gassimou (the character), as such a role would fit the emotional gap left by the death of Gassimou," says Yang.
To consolidate the realistic effect, the crew also constructed two replicas of P3 and P4 laboratories, the second-highest and the highest biosafety levels to protect researchers from dangerous viruses, and a mobile medical vehicle in a sound-stage covering an area of 2,400 square meters.
But audiences who have learned a lot about contagious diseases since COVID-19 might be surprised to see that many medical workers are not wearing face masks or wrapped in protective suits throughout the series.
Yang says it is because most African countries face a shortage of medical equipment and facilities, as well as the fact that Ebola is transmitted through direct contact with blood or body fluids, so such details in the series are convincing.
Moreover, the series is not about COVID-19.
For Luo, a veteran actor with nearly 21 million fans on Chinese micro-blogging platform Sina Weibo, acting as the fearless and devoted doctor Zheng was a meaningful experience as both his parents previously worked at a hospital.
"I spent a lot of time to learn about Ebola and how Chinese doctors lived and worked during their mission to help Ebola-hit African countries," says Luo.
"I believe it's not just about how Chinese helped Africans-we have also received a lot of assistance from our African brothers."