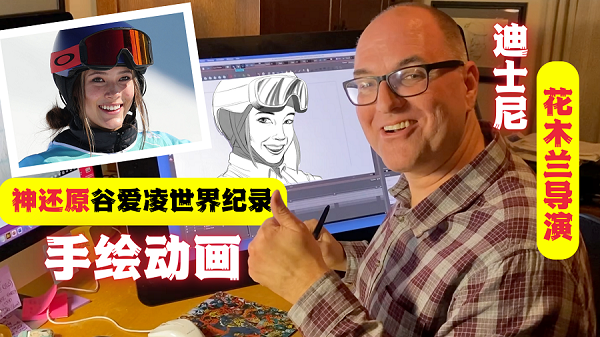 Bancroft draws a set of 2D animations for skier Eileen Gu. [Photo provided to China Daily]
Animator Tony Bancroft became an internet sensation after he drew a set of 2D animations for skier Eileen Gu, who soared to win three medals during the Beijing 2022 Winter Olympic Games last month. Her outstanding performance prompted torrents of admiration, and Bancroft wrote on his Instagram account that Gu has become an inspiration for girls all over the world to get into athletics and reach their goals. For Bancroft, a stellar example has infinite power.
The US animator makes no attempt to conceal his excitement.
"I was so inspired by how she took her Chinese and American roots and brought them 'Together for a Shared Future', (the slogan of the Beijing 2022 Winter Olympics.) She is incredible at what she does in skiing and I love how she is an influence on the next generation of female athletes from China and the world. Like Mulan, Eileen Gu is a strong female hero," Bancroft says.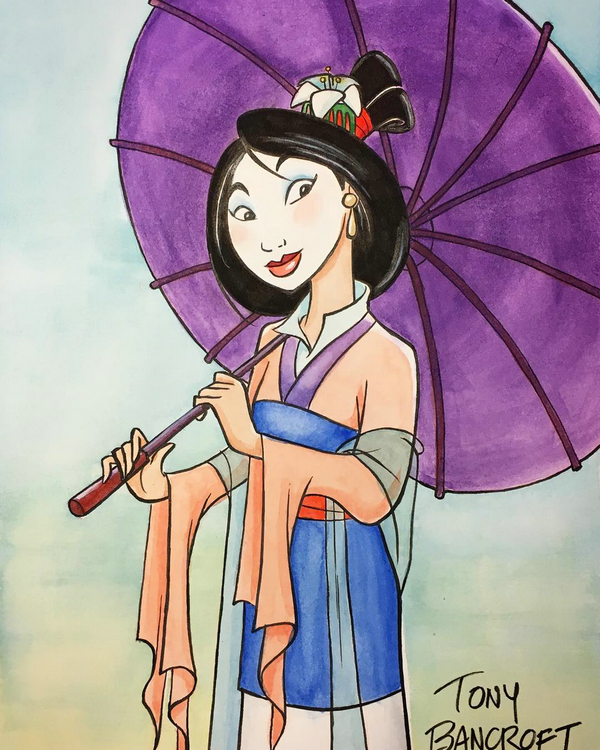 Tony Bancroft's passion for bringing memorable animated films to life has created some of the best characters we are all too familiar with. [Photo provided to China Daily]
Bancroft's passion for bringing memorable animated films to life has created some of the best characters we are all too familiar with, including Pumbaa from The Lion King, Kronk from The Emperor's New Groove, Iago from Aladdin, Cogsworth from Beauty and the Beast. And as a film director, he is best known for directing the movie Mulan.
"Disney's Mulan was a joy to work on. It was not without its ups and downs, though. It involved a tremendous amount of research and understanding of ancient China, its customs and culture. Of course not everything you learn in doing research on the topic of a film is used. Then you have to go through the creative yet time-consuming process of figuring out what story you want to tell," he says.
"There are thousands of options and many ways we could have told Mulan's story. Whenever we hit a wall in the process, we would always think of the heart of this female warrior who loved her father so much. She would sacrifice herself, so he could live. Mulan's heart was what guided our decisions and helped us when things got tough. It was a four-year process creating the movie Mulan and incorporated hundreds of artists, writers, actors and technicians, but it was well worth the journey to bring her story to the world."
Bancroft says he made it for his three daughters, so they could have a female hero to look up to and now it is an inspiration for generations of daughters.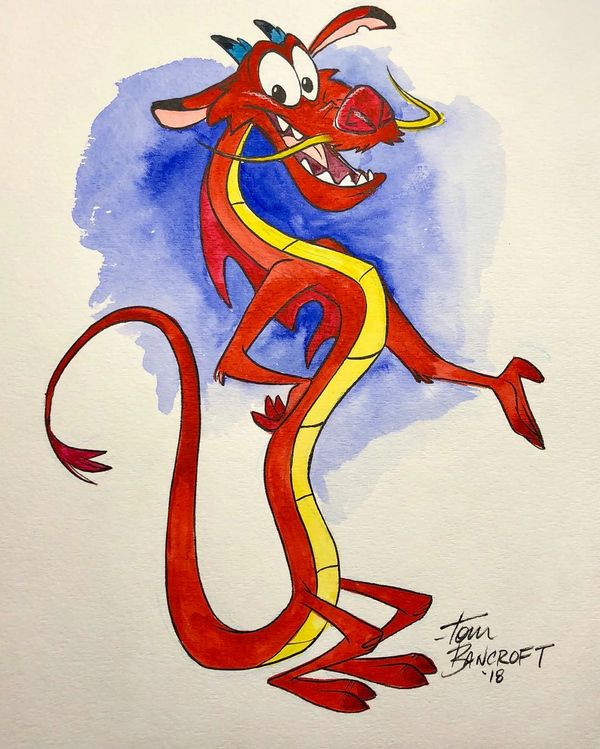 Mushu the dragon is created by his twin brother Tom. [Photo provided to China Daily]
Tony and his twin brother Tom both have a profound love for Chinese culture. They conducted years of research to create the movie that respected and honored Chinese culture. Tom, the creator of Mushu, the Chinese dragon that guarded Mulan in the film, is fastidious on details.
"When I was creating many different character design versions of Mushu, I was referencing many things from Chinese culture. I looked at ancient wood block print artworks and sculptures of dragons at temples in China. I noticed that Chinese dragons are very different from European dragons from mythology. The Chinese dragons were thin and snake-like while the European dragons were often thick and more like a crocodile. Mushu is made up of many animals-he has whiskers like a catfish, scales like a fish, cow ears, the hairy lip of a camel, horns like a goat and talons of an eagle. All these things are subtly and stylistically included in the design," Tom says.
Tony was accepted into the exclusive California Institute of the Arts in 1987, where he thrived artistically and developed a lifelong passion for animation. There, his work caught the attention of Disney Studios. In 1989, he got a position in the animation department. During his 12-year career with Disney Studios, the household names of animated characters he created accompanied a generation growing up. The release of Mulan in 1998 garnered over $300 million at the global box office. It was also Mulan that earned Bancroft that year the Annie Award for Outstanding Achievement in Directing, the highest honor in the animation industry.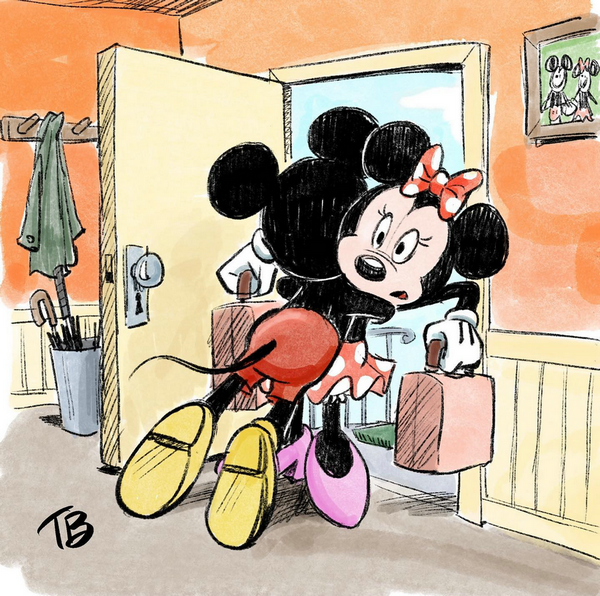 Tony Bancroft's passion for bringing memorable animated films to life has created some of the best characters we are all too familiar with. [Photo provided to China Daily]
Freddie Moore is his favorite animator. The Disney animator in the late 1930s created the version of Mickey Mouse that is still remembered and loved today.
"Moore really created what we see as the 'Disney style' of drawing cartoon characters. He brought many of the most beloved characters to life and inspired generations of future animators including me,"Bancroft says.
The various types of animation and a focus specifically on music illustrate his creation style.
"Music can be technical and it can be creative. I use music as a way of thinking about my timing in my animation. Music is about notes, some are held longer and some are short and quick. That is true for the pacing of my animation. Some shots are long and contemplative and others are short and active. Blending those beats together makes for an interesting pacing for the movie that moves with the rhythms of music," he says.
In 2001, Bancroft founded Toonacious Family Entertainment with two of his partners as executive vice-president for creative production. In 2003, he was the voice director of the English language version of the Hayao Miyazaki film Porco Rosso through Walt Disney Studios. In 2019, Bancroft voice directed the animated feature Red Shoes and the Seven Dwarfs.
Bancroft could not define his style on his own perhaps, but anime lovers would easily spot his influence whenever given one without specifying Bancroft's name. "My friends will know that I draw it when they see the picture. But I don't think my style is that obvious. The subtle uniqueness of the style is not determined by what style you choose to learn. Everything still depends on the creativity of the individual," Bancroft says.
Bancroft believes the transmission of information brings about the diversity and selectivity of styles, and each style has its own audience. The development of the internet has accelerated the spread and allowed more people to discover themselves and their preferences, rather than being a "forced" audience of a single style without a choice.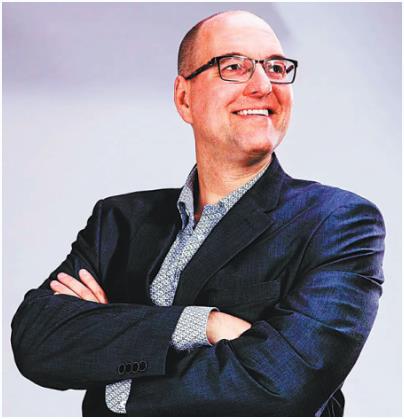 US animator Tony Bancroft says he has a profound love for Chinese culture. [Photo provided to China Daily]
"I love to give back from my experiences in animation to the future generations, through Chinese social media. I feel like I can give back to a generation of cultural and technology influencers who are just as interested in creating entertainment as anyone on the world. I am also fascinated to see new stories come from the Gen-Zers about their culture's past and present," he says.
Each style has its own unique charm. He always maintains an attitude of appreciation and learning in the collision of styles. Every artist has his own style, and blindly pursuing a certain style is the imprisonment of ideas and creativity. And he hopes to see more diverse styles of works in the making.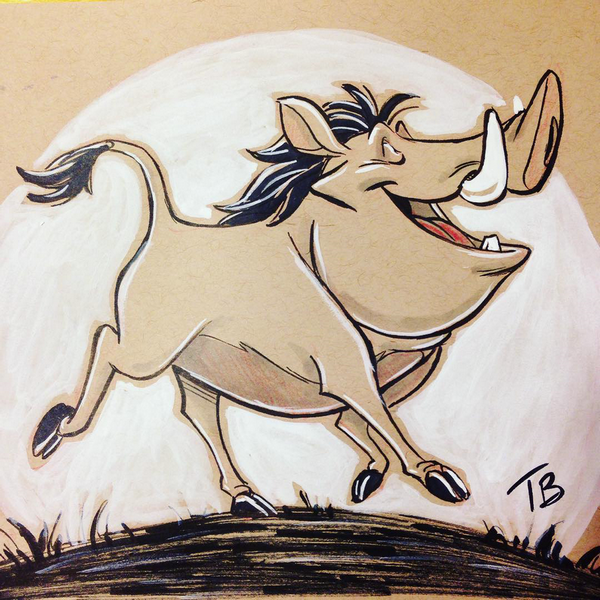 Tony Bancroft's passion for bringing memorable animated films to life has created some of the best characters we are all too familiar with. [Photo provided to China Daily]