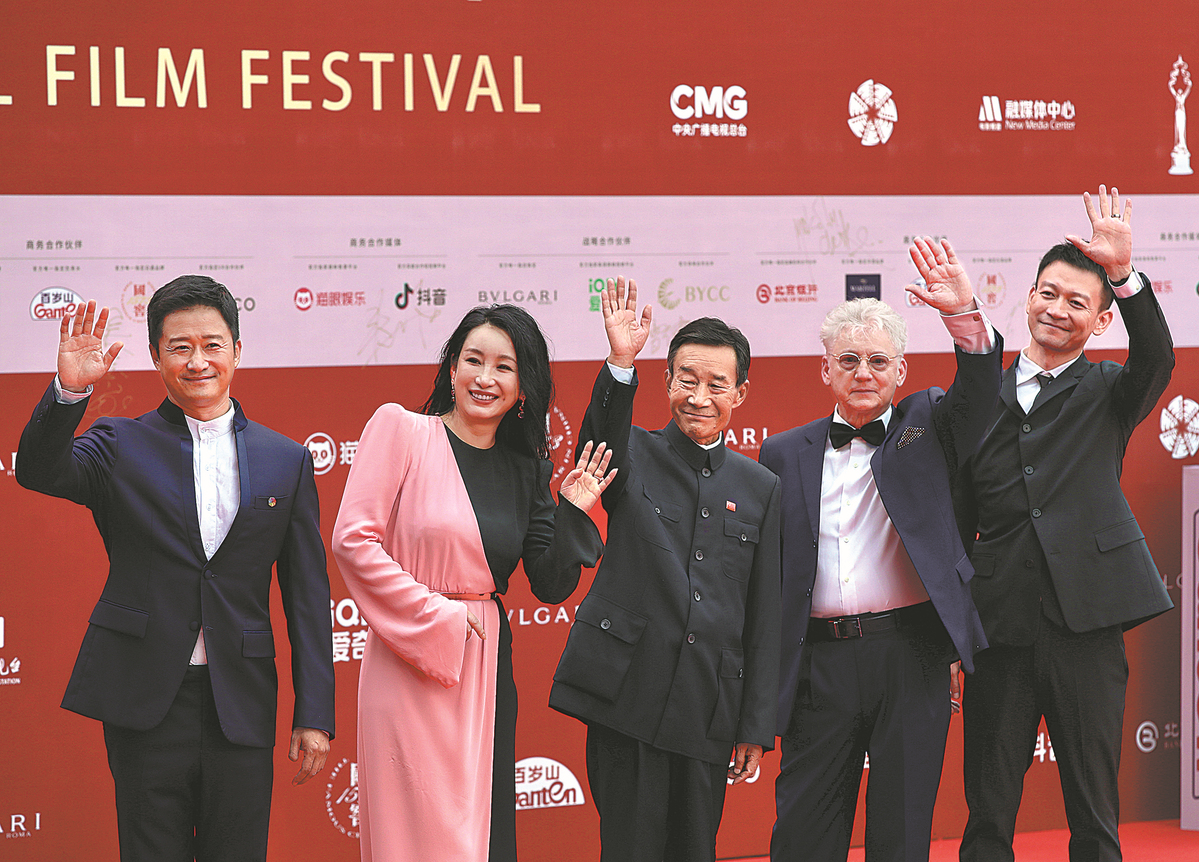 Actors and directors pose for a photo at the 12th Beijing International Film Festival in Beijing on Friday. ZHU XINGXIN/CHINA DAILY
Despite the sultry summer heat, more than 100 top filmmakers and stars dressed in eye-catching outfits walked the red carpet at the opening ceremony of the 12th Beijing International Film Festival-one of China's most influential movie events-near the shores of picturesque Yanqi Lake in northern Beijing on Friday night.
Renowned actor Li Xuejian, who is jury president in charge of the festival's top award, the Tiantan Award, appeared first flanked by four fellow jury members-director Guo Fan, actress Qin Hailu, filmmaker-actor Wu Jing, and English documentary filmmaker Malcolm Clarke.
In all, 1,450 movies-including 1,193 from 88 countries and regions-are competing for the 10 Tiantan Awards, and the winners will be announced from 16 nominated movies, which include Hong Kong director Derek Yee Tung Sing's latest film, In Search of Lost Time, which is also the festival's opening film.
Award-winning actress Yao Chen, who is also host of the opening ceremony, said that she was glad that the festival is being held as scheduled during "such a difficult period", and said the event will raise the confidence of domestic filmmakers, and help propel the industry's recovery.
Yao said she had also watched some under-the-radar art house films, and hoped that Chinese filmmakers would shine a light on the country's young talent, whose work has influenced her own.
With the number of cinemas in operation rising from less than half in early April to 82.4 percent this week, China's film market has undergone a robust recovery amid sporadic outbreaks of COVID-19.
Latest figures from box office tracker Maoyan show summer receipts of 7.2 billion yuan ($1.07 billion) during the period from mid-June-a traditionally lucrative box office period-which is not far off the receipts of 7.38 billion yuan tallied during the same period last year.
Demonstrating his famous obsession with Sci-fi and giant robots, Hong Kong actor Louis Koo walked the carpet carrying the mecha helmet he wore in his role as a military officer in Warriors of Future, and said that he hopes the movie-the biggest budget film and also the first hard Sci-fi epic in the history of Hong Kong cinema-will help lay the foundation for the development of Chinese Sci-fi films.
Internationally-renowned director Xie Fei said that he had heard that many talented newcomers planned to attend the Beijing Festival, and expressed his hopes that they make good use of digital technology to realize their cinematic dreams.
"It's a great time for the industry, one in which every one of us is able to become a director," he said.
The annual festival takes place in the capital between Aug 13 and 20.