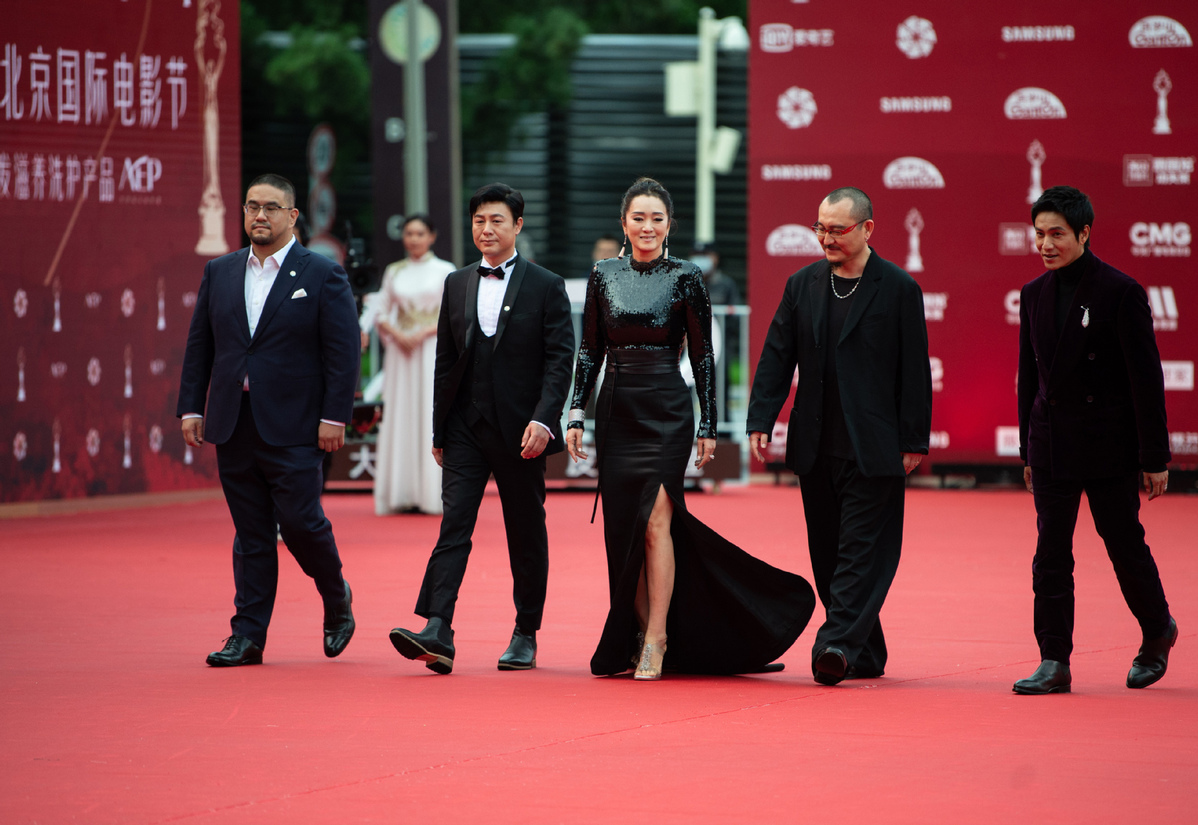 The jury for the Tiantan Award, the top honor at the Beijing International Film Festival, walk the red carpet at the opening of the 11th BIFF in Beijing on Monday.
Shortly after the rain stopped and the sky cleared, hundreds of celebrities and filmmakers walked the red carpet at the opening ceremony for the 11th Beijing International Film Festival, launching the event-one of the largest of its kind in China-in northern Beijing's Huairou district on Monday.
Internationally renowned actress Gong Li, who presides over the jury responsible for the festival's top honor, the Tiantan Award, appeared together with four fellow jury members, directors Leste Chen and Wuershan, and actors Zhang Songwen and Chen Kun.
The jury's two foreign members, Finnish director Renny Harlin and Lebanese filmmaker Nadine Labaki, are joining the festival remotely. This year, all foreign celebrities and filmmakers will attend virtually in an effort to reduce the risk of infection, according to organizers.
Speaking about how China had become the world's largest movie market in terms of yearly box office receipts since the pandemic disrupted film-going elsewhere around the world last year, actor Rong Zishan, known for the smash hit The Bad Kids, expressed his pride in seeing Chinese filmmakers collectively working to further improve the domestic film industry.
Actor Peng Yuchang, known for the comedy blockbuster Take My Brother Away, said:"Earlier today, I thought the rain wouldn't stop, but it's turned sunny, which I'll take as an auspicious sign that the Chinese film industry will improve and thrive."
Affected by cinema re-closures and the reduction of seating capacity in some cities as a result of several local outbreaks, this year's box office revenues stood at 34.1 billion yuan ($5.3 billion) as of Monday, far behind the 64.1 billion yuan earned in 2019, the year before the pandemic, which has caused unprecedented changes to the film industry.
In a video released earlier by festival organizers, Gong Li, who walked past journalists to skip interviews, said she believes it's the jury's duty to promote Chinese films around the world.
The festival, which will last until Sept 29, is scheduled to hold 1,000 screenings of nearly 300 films at 31 cinemas around Beijing, Tianjin and Hebei province to the delight of die-hard fans of the silver screen.
The Battle at Lake Changjin, an epic about the War to Resist US Aggression and Aid Korea (1950-53), and Gong Li's latest film, the spy thriller Saturday Fiction, will be screened as the festival's opening and closing films, respectively.