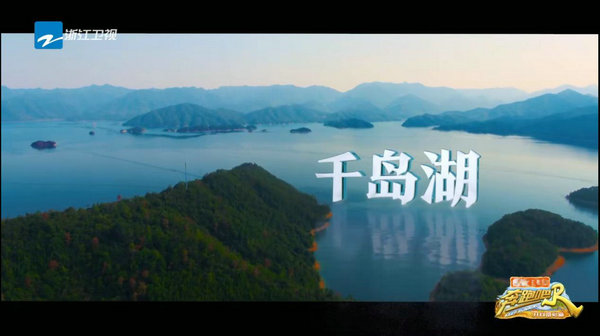 A scene from Keep Running. [Photo provided to China Daily]
Hit reality show Keep Running has released a special episode this month with aims to present the rural-vitalization achievements made by Zhejiang and Fujian provinces over recent years.
In its latest episode on Zhejiang TV, the show has taken a group of celebrities including actors Li Chen, Zheng Kai and Sha Yi, actresses Angelababy and Bai Lu, pop idol Cai Xukun as well as singer Zhou Shen on a one-day tour to the Qiandaohu lake area in Chun'an county, Zhejiang province where they can probe into how ecotourism thrives in the place.
In the show, participants are asked to play games in groups at tourist attractions at the scenic area. Through their eyes, viewers can see the picturesque environment and the improved infrastructure in and around the area.
A scene from Keep Running. [Photo/Xinhua]
Chun'an has more than 1,000 places to stay for toursits and offers various activities for visitors to experience its local culture. For instance, the performance of a traditional wedding of local fishermen is regularly staged for visitors to get glimpse into the local custom.
The bighead carp and other aquatic animals bred in the lake also attract gourmets, which in turn helps the development of the catering industry in Chun'an.
The episode shows how the county combines ecology protection and economic development to pursue common prosperity for its people.