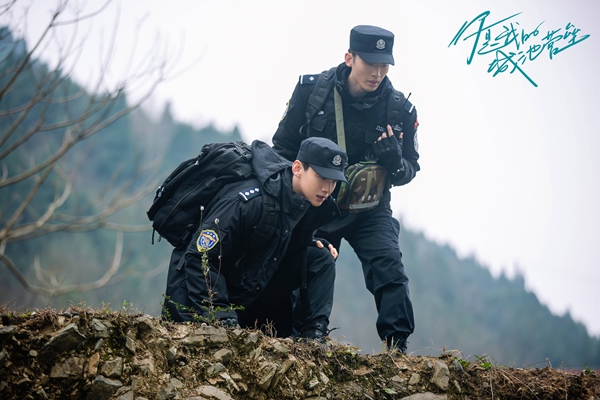 A scene from TV series You Are My Hero shows special police officer Xing Kelei (left), played by Bai Jingting, and a colleague preparing to rescue people trapped by the earthquake that hit Wenchuan county, Sichuan province, in 2008.[Photo provided to China Daily]
TV series highlights bravery, dedication and humanity of those called on to serve, Wang Ru reports.
A desperate situation. A life on the line. Every second counts. A girl mistakenly drinks insecticide and is rushed to hospital. She needs a large amount of atropine for disintoxication, but the medicine is stored only in small doses. As a result, medical workers at the hospital have to open several thousand small bottles of the medicine using only their hands in one night to save the girl.
The story is adapted from a true case that happened in the First Affiliated Hospital of Shantou University Medical College in 2017, and was shown in the 40-episode TV series You Are My Hero. It began to run on online streaming platforms Tencent Video, Youku and iQiyi on March 11, and has achieved 8.0 points out of 10 on China's popular review site Douban.
Adapted from a namesake online novel, the production stars Bai Jingting and Ma Sichun, and tells the romantic story between doctor Mi Ka and police officer Xing Kelei. It elaborates on how they fall in love with each other while fulfilling their duties.
"People generally believe doctors and police are professional, courageous, and shoulder social responsibilities. But when they take off their white coat and police uniform, they are ordinary people who have various feelings just like you and me. They may feel confused and nervous when facing setbacks, and they need time to be more mature," says Fang Ying, general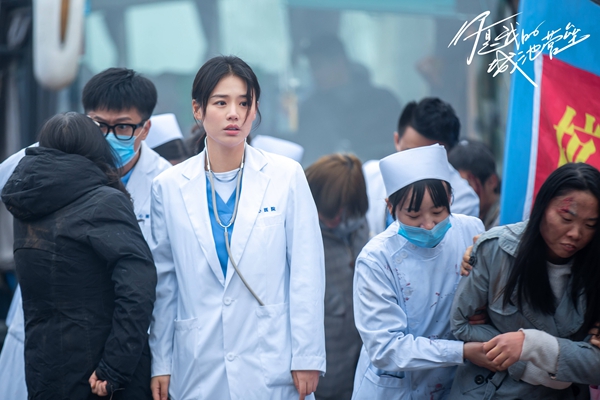 Doctor Mi Ka (middle), played by Ma Sichun, at the scene of the earthquake.[Photo provided to China Daily]
"I believe the vivid characters and their true-to-life emotions can touch the audience. We want to show young people who can bravely shoulder their responsibilities when they are needed, and their vivid personalities when they are off duty," she adds.
The crew members prepared for four years to make this series. In order to show the professionalism in the work of doctors and police force, they conducted interviews and research at the Affiliated Brain Hospital of Nanjing Medical University, Beijing Tiantan Hospital that is part of the Capital Medical University and Beijing Shijitan Hospital, an affiliate of the Capital Medical University to collect information such as medical cases, doctors' daily life and ideas, and infused the information into their creation.
"For example, in the drama, a neurosurgery expert says neurosurgery operations require precision, so doctors must keep their hands steady. The line comes from the reflection of a real neurosurgery expert collected in our research," says Fang.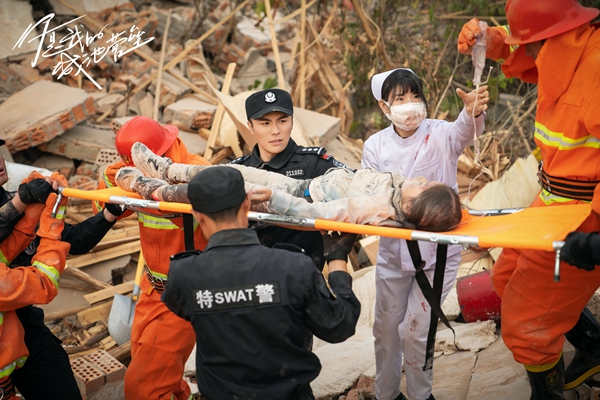 Police officer Shu Wenbo (facing camera), played by Chen Hao, saves an injured girl. The series depicts the courage of ordinary people in extraordinary times.[Photo provided to China Daily]
They also lived on a police training base in Nanjing and interviewed many officers about the cases they participated in and their daily life. "Many cases shown in the series are adapted from true cases the police told us about," says Fang.
The drama shows the story of earthquake relief efforts from police and doctors, which refers to the true story in the devastating earthquake which hit Wenchuan county, Southwest China's Sichuan province in 2008. Crew members interviewed some police officers who took part in the relief efforts and got to know many details about their work. Then they shot part of the story in the 2008 earthquake site of Beichuan Qiang autonomous county, one of the worst-hit areas near the epicenter.
"I remember when we arrived at the site for the first day, all of the cast and crew presented flowers to the monument marking the Wenchuan earthquake. We saw the ruins, read the introductions, and many of us cried," says Zhang Tong, director of the series.
"Since I come from Chengdu, the provincial city of Sichuan, I could keenly feel the pain from the earthquake. But people's joint efforts at that time also made me feel grateful. So when I shot this part of story, I put many of my true emotions in the creation," Zhang adds.
According to Zhang, the shooting of the drama ended just several days before the outbreak of COVID-19. Then when he saw the news about the efforts of medical workers and police in fighting the outbreak, he thought of his original aspiration to make this work.
"We want to show two young people, who can shoulder their responsibilities at work, and also enjoy life. It can be seen as a portraiture of many young people in the modern society," says Zhang.